At Bajoron we breed for the obvious, Health, temperament, pedigree, and conformation. It is important to remember that a Bouvier should be able to do what they were bred to do, herd. Keeping this aspect of the Bouv in mind, we celebrate our dogs that do what they were bred for
!!!
Pride and gratitude is all we can express to her fine trainer, Segolene and Onyx for a job well done! Onyx has her AHBA started (watch the video below!)
watch Onyx herd!
Onyx shows you how it is done!
This dog can do it all!
http://www.youtube.com/watch?v=M2zBPYeHoHU&feature=player_detailpage
click on the link above to see onyx at work getting her PT title!
Let me go I know what to do

Humm which way will they go?

I can get them

Easy

Come around

Chadiche is getting it and enjoying it!

The walk up with Laurie teaching and Onyx staying focused

To watch the puppy herding test click above

She is getting better!




Short Lesson:

Enjoy watching Onyx learning to herd.

Marion County Fairgrounds annual sheep show

If we stay together maybe we can out smart that darned dog!

Watch me work them

I have the entire herd under control
Great Job Onyx

bring them about
| | |
| --- | --- |
| | It is so hard to wait your turn when you know you are good and it is fun!~ |

Bouviers doing what bouviers are meant to do, work the farm, bring in the stock.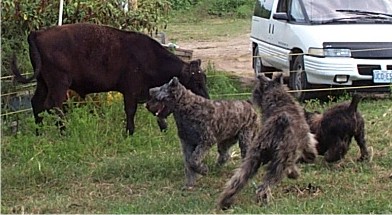 Together we can move this cow!
Bouviers that are actually working on farms are a real treat to watch. Bajoron produces dogs that naturally help out and bring in live stock. No harsh temperaments, just plain smart when helping out with the daily chores. Bajoron Dogs don't need to get a herding titles to prove they are the REAL DEAL! Some of our companion dogs are working in tandem with their owners. Onyx is working on competing for her Herding Title as she enjoys what Bouviers are meant to do, WORK.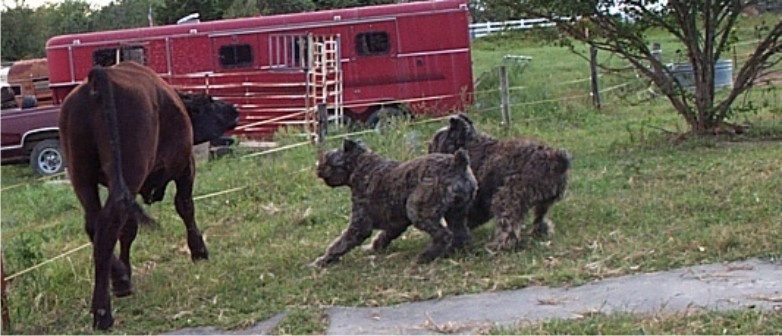 It takes team effort to move cattle. Real Bouviers with real herding instinct, these dogs are products of Bajoron and M R Bouviers~!
We are so proud of onyx and Segolene for the progress and hard work that they have put in to learn how to herd. We can't say enough about the dedication that both dog and owner have for excellence!
We have


hits as of January 2011
from that point on: